A small sampling of football hits from buccaneers.com…
Top Three Takeaways from Chiefs vs. Buccaneers
The Buccaneers fell to the defending Super Bowl Champions, who have shown no signs of slowing down, on Sunday night – but here's why it's still not time to panic.
This is probably not the article you were wanting to read after the defending champs came to town to face the Buccaneers in Week 12.
But this is the article you need to read.
The Sunday afternoon matchup between the Kansas City Chiefs and Tampa Bay Buccaneers had been a major question mark going into the season, even with quarterback Tom Brady taking the helm of a straight up cargo ship of offensive weaponry. Now in Week 12, the Chiefs are arguably football's best team right now and they sailed into Tampa with the league's highest scoring offense and just one loss on their record.
And in the beginning of the game especially, they looked like it.
After the first quarter, the score was 17-0 in favor of the visitors. Wide receiver Tyreek Hill had over 200 yards receiving and multiple scores. But for as bad as that seemed to be: the Bucs fought back. They scored two touchdowns in the final quarter of the game while the defense stood tall for most of the second half to give Tampa Bay a chance. Yeah, the Bucs ended up falling – but only by three points, while limiting the Chiefs to their third-lowest point total of the season.
So, the Bucs are now 7-5. They're heading into their much-needed bye week and have four games on the other side that should be winnable for this team and the talent on it. Consider that if the Bucs win three of their last four – that gives them a 10-6 record, which would be their best since 2010. The last time the Bucs made the postseason – they did it with a 9-7 record. There were a lot of good things to take with them from this last game, so let's look at them.
1. The Bucs held up in the red zone and in third-down defense.
Head Coach Bruce Arians said Monday, and really all week leading up to the game, you have to pick your poison when it comes to Chiefs quarterback Patrick Mahomes. He is a human cheat code. Defensive Coordinator Todd Bowles said his defensive backs, especially, would have to 'plaster' because let's face it, the play may look over for a normal quarterback, but Mahomes isn't a normal quarterback. The play is over when the ball is on the ground in some form or fashion and not a moment before.
"Hindsight's always 20-20 – the zone coverage, they were hitting a little bit in RPOs (run-pass options), so you've got to pick your poison with that guy," said Arians about the defensive effort. "I was really proud – I thought the defense adjusted really well in the second half."
Even before the second-half adjustments, the Bucs were stingy on third-down and inside the red zone. The very first possession of the game, the Chiefs seemed destined to get into the end zone, driving down the field in four plays and helped by back-to-back Bucs penalties. But three plays in a goal-to-go situation, two of which were from the one-yard line, and Kansas City would instead settle for a field goal. That kept up the entire game, with the Chiefs converting zero of their three trips into the red zone. The Bucs currently rank in the top 10 in goal-to-go defense on the season. They were also able to hold the Chiefs to a 50% third-down conversion rate for the entirety of the game – and this is the team that converts third down at the best rate in the league.
Mahomes was sacked twice after only taking 13.0 sacks all year. He was also pressured into throws that resulted in two picks that were negated by penalties, unfortunately. But the Bucs' defense did cause Mahomes to lose a fumble for the first time in 2020, gifting the offense with an extra possession in the first half. It added to the Bucs' total of 20 takeaways this season, which ranks second and only one behind the Pittsburgh Steelers. What's more, is that the Bucs are tied with the Steelers for the most points off takeaways this season, with the defense helping to put 85 points on the board. On Sunday, it was a sack-fumble from outside linebacker Shaq Barrett, who leads the league in such plays since he got to the Bucs in 2019 with eight. It pushes Barrett's sack total to 6.0 this year. He still leads the leagues in sacks since the start of 2019, oh by the way. Jason Pierre-Paul was the other Buccaneer to nab a sack on Mahomes, increasing his season total so far to a team-leading 8.5, which ranks as the fifth most in the league this season. He's only one off of Myles Garrett and Trey Hendrickson, who lead the league with 9.5. The Bucs are currently tied for the third-most sacks of any team in the league with 34.0. JPP's sack came in the second half, when Mahomes was decidedly less effective than he had been in the first; a testament to those aforementioned adjustments. Where Mahomes had 354 yards passing in the first half, he had 102 in the second half. The Chiefs offense also slowed, putting 10 points on the board in the second half. Not the typical performance for the league's most potent offense – once the Bucs figured them out.
But there's no doubt that the Bucs need to start faster. Arians mentioned as much on Monday.
"They did a good job of audibling when we showed man-to-man, bump-and-run to hit a couple screens," said Arians. "The rest were just short routes that we didn't make the tackle. This was not getting fast enough home for a guy running an out-and-up, and to have a safety closer to help. But yeah, we have to start games faster defensively. That was a big emphasis all week, and even the night before the game in talking to them. I said the same thing offensively. We've got to convert those early third downs and get some scores like we did earlier in the season."
2. Individual performances are helping them click.
While they may not have gotten off to a hot start on offense, either, they did start to get into a groove as the game went on. Especially with a guy like Tom Brady, you're never quite out of it. He's very good at keeping his guys motivated – and wide receiver Mike Evans can attest to that.
"We've got a bunch of guys on this team that are going to fight to the end regardless of the score," said Evans after the game. "We got back in the game and it came down to needing to get a stop, but our defense did a great job, they held them to 27 points. We've just got to make more plays on the offensive end, me included. I've got to get going earlier."
Evans may have wanted to get going earlier, but he had an individual performance that was as productive as any, scoring two receiving touchdowns to put his total at 11 on the year – just one shy of his single-season career-high of 12. That number is also the single-season franchise record. Evans is now tied for the second-most receiving touchdowns this year among all qualified receivers and his 11 touchdowns from Brady are the third-most by a wide receiver from Brady in a single season, trailing only Evans' idol Randy Moss, twice. Moss and Brady had 23 touchdowns in 2007, to give you some idea as to how incredible that duo was together. But Moss' second-highest total was 13 – which Evans could easily match, if not surpass. That'd be neat. Also, since entering the league in 2014, Evans has the second-most receiving touchdowns with 59, just one behind his teammate Antonio Brown.
And if Evans was the leading end-zone producer for Brady on Sunday afternoon, it was Brady's old pal Rob Gronkowski who led the team in receiving yards. He eclipsed the 100-yard mark for the first time as a Buccaneer, upping his total such games to 29 in his career. He's just two behind former Chiefs great Tony Gonzalez for most 100+ yard receiving games by a tight end in NFL history. Including the postseason, Gronkowski already has that title, with 33 games of over 100 receiving yards.
And of course, the guy wheeling and dealing these receiving yards and touchdowns is also on a record pace. While Brady's interception total is more than he's used to with 11 this season, he is also on pace to have the most passing touchdowns in a single season in Buccaneer history. He's just five touchdowns away from the record Jameis Winston set last year of 33.
3. The Bucs' kicking woes look to be behind them.
Kicker Ryan Succop won NFC Special Teams Player of the Week and still no one is talking about him. Succop was perfect in kicks for the Bucs again on Sunday and as of Sunday's 4 p.m. games he had the second-most points by a kicker this season with 102. He trails only Atlanta's Younghoe Koo. His 102 points already put him in the top 10 in franchise history for points in a single season. Matt Bryant holds that record with 131.
Succop has been pretty automatic on extra points – a luxury that hasn't been afforded to Tampa Bay in some time. He's made 36 of 38 of them for a conversion rate of 94.7%. He also has a 91.7% field goal success rate in 2020 – matching his career best set in 2016 when he was with the Titans.
2020 Bucs Performance Review: ILB Lavonte David
Your 2020 September NFC Defensive Player of the Month Lavonte David is doing Lavonte David things week in and week out – so let's take a look.
Inside linebacker Lavonte David is a victim of his own consistency. Week in and week out he makes the plays you need him to and then some. His skillset is unlike any other at his position and he's a coach's dream because of his reliability.
And because of that, he doesn't get recognized.
Great play is just expected out of him.
"He's been outstanding," said Defensive Coordinator Todd Bowles about David's first four weeks of the season. "He was like that last year every game, he just didn't get credit for it. He comes to work and does the same thing every time – that's like a normal day for him. He's very well prepared, he's very well in shape, he understands the game well and he loves to play."
Well, we finally got some recognition for the vet. It came in the form of the NFC's Defensive Player of the Month for September. It was the first time David had ever won the award.
So in the spirit of highlighting David, let's take a closer look at his game against the Chargers, where all he did was lead the team in tackles with 11, including one tackle for loss, while leading a defensive run-stopping effort that allowed the Chargers just 46 yards on the ground.
Quarter 2
1st & 10 at LAC 41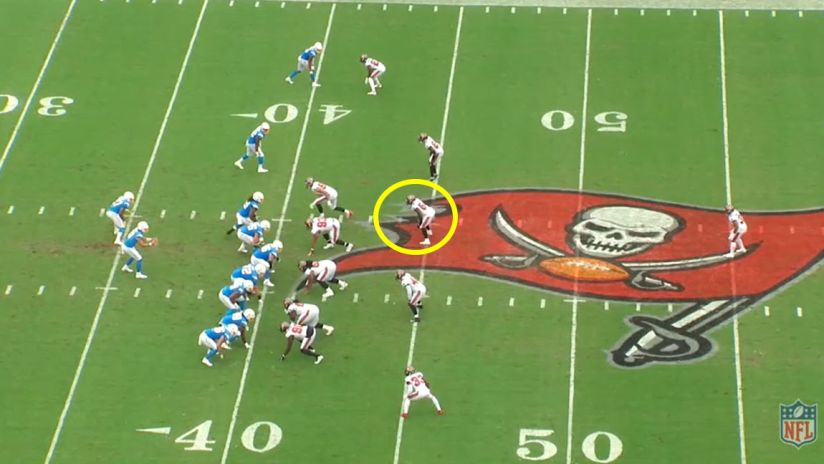 Let's talk about discipline and keeping your eyes trained on your assignment while STILL knowing exactly what's going on around you. That's one of the many things David is so good at and I'll show you in these back-to-back plays from the second quarter. On first down, the Chargers are in 13 personnel with all three tight ends attached to the right of quarterback Justin Herbert in the shotgun. He's got running back Joshua Kelley to his left in the backfield and tight end Stephen Anderson crosses Herbert on a pre-snap motion to line up on the left side.
The Bucs are in their base package with safety Jordan Whitehead in the box. Cornerback Carlton Davis travels with the tight end, likely signaling man coverage. Now, watch David. He sees Anderson cross the formation but then keeps his eyes trained on Kelley. He takes off with the running back and is there as soon as Kelley makes the catch from Herbert. Gain of just one.
2nd & 9 at LAC 42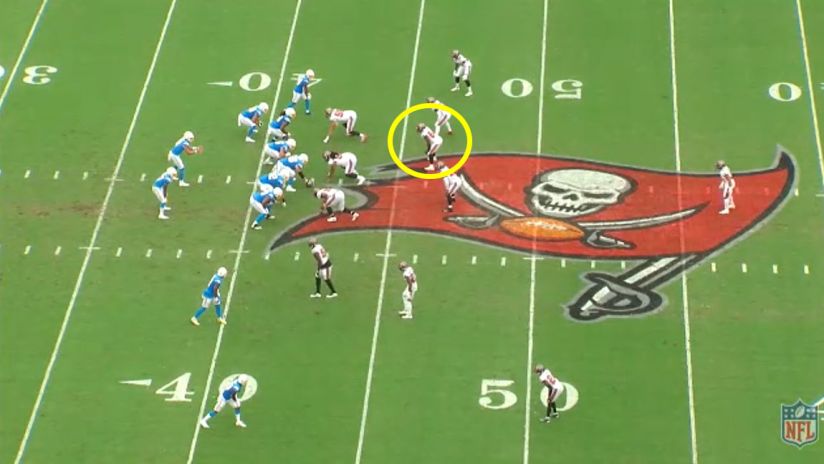 Again with the discipline. This time the Chargers are in 11 personnel with the tight end set back off the outside shoulder of the left guard and Kelley is lined up on Herbert's right. The Bucs are in their nickel package and send in Whitehead on a four-man rush as outside linebacker Jason Pierre-Paul drops in coverage instead of rushing.
David, despite Whitehead going in right in front of him, keeps his eyes trained on Kelley and is patient with his attack yet still gets there before Kelley can pick up more than a yard.
1st & 10 @ TB 35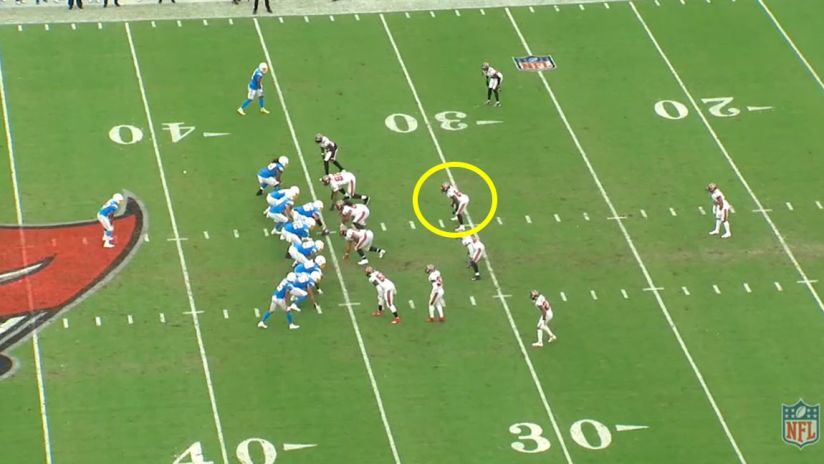 David has the most tackles for loss of any active linebacker since 2012 and has the third most of any player in that span, sitting behind just Houston's J.J. Watt and Los Angeles Rams' Aaron Donald. He shows why here. He is so good at anticipating and can get through traffic with his toughness. You've got Los Angeles in 12 personnel with two attached tight ends to the right side with Herbert under center and Kelley lined up in the backfield directly behind him. The Bucs are in their base package and David is talking to the line in front of him. You'll see exactly what he was saying as you watch the play.
His eyes stay trained on Kelley again. But defensive lineman Vita Vea takes on two blockers as defensive lineman Will Gholston does the same, which then allows David to squeak through the hole to meet Kelley in the backfield. Loss of one. Just like David anticipated.
4th Quarter
3rd & 9 @ LAC 26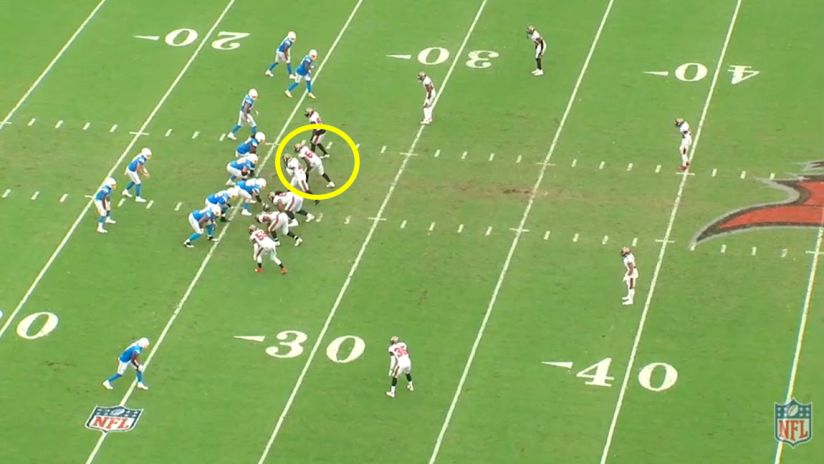 And just in case you thought that after nine years in the league David wasn't still one of the fastest players at his position or couldn't still lay the boom, think again. Here, he shows off his closing speed and his physicality as he finishes a great play by cornerback Sean Murphy-Bunting to stop the Chargers short of gaining a first down and some momentum.
Despite six guys on the line, the Bucs only rush four as both David and inside linebacker Devin White drop. But David keeps his eyes on where the ball is going despite the pocket collapsing around Herbert. He rolls out and gets the ball to Kelley again but Murphy-Bunting gets an arm on him just as Kelley tries to jump and/or hurdle him? PSA: Don't do that when David is right there, too. David finishes the tackle and stops him short of the line of gain. Chargers punt.
Bucs Performance Review: DT? Vita Vea
Yes, I 100% chose Vita Vea so I had an excuse to break down his offensive touchdown reception right before halftime. But I also chose him to challenge myself – I'm not exactly sure Vea knew what positions he played in Sunday's game against the Falcons. He did so many different things in this game, it puts my knowledge of multiple facets of the game to the test. In Vea's own words, 'There was a lot of weird in this game.' If you want to know just how many anomalies Sunday's divisional matchup contained, Scott Smith's Data Crunches are a good place to start. Yes, there were two this week because that much happened. And if that many anomalies happened – do they cease to be anomalies?
I don't mean to get so existential on you – this is football, after all. So, let's get down to the more tangible and break down three (very different) plays from Vea.
2nd Quarter
2nd & 1 @ ATL 1 (00:44)
Bucs in 23 personnel (yes, you read that right)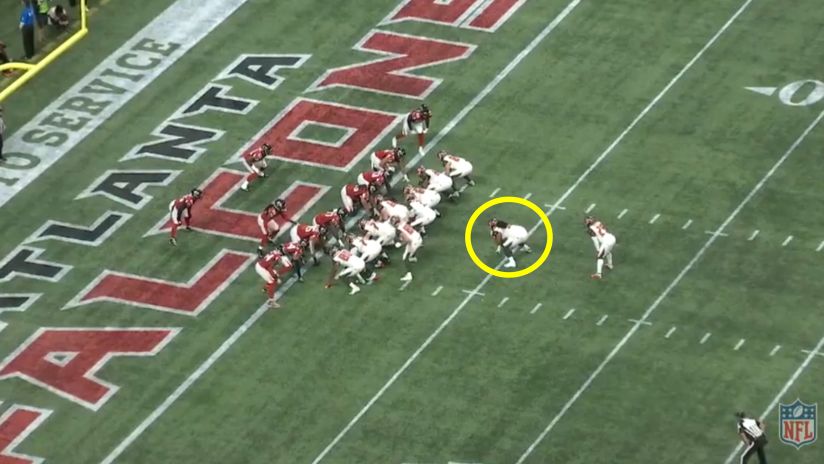 Anything goes at the goal line and apparently, the Bucs decide to prove that on this play. The first thing you should notice here is one of these players is not like the other. Vita Vea is aligned in a fullback position in front of running back Peyton Barber and behind a line that includes three attached tight ends. This, incredibly, isn't the first time we've seen this either. Vea ended up being the difference maker on a one-yard Barber touchdown run against the Arizona Cardinals in Week 10. In that game, he had initially aligned himself exactly as he is here, except he then went in motion and as an eligible receiver, blocked from the line of scrimmage. Here, Vea was again announced as eligible and Atlanta must have figured something similar was coming. But they should have known something was off right away.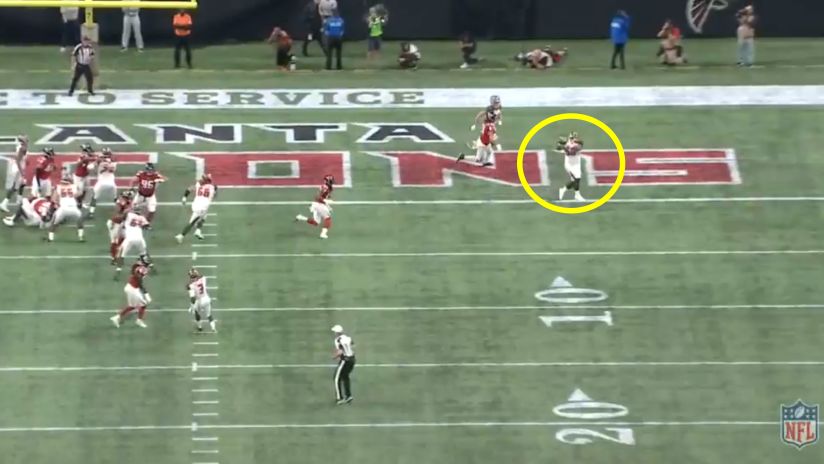 Barber didn't follow Vea on a block. In fact, Vea goes to the backside and chips the linebacker before blowing past him and skimming the goal line. The linebacker, Jermaine Grace, comes in unblocked and is beelining straight for Winston, but it doesn't matter. Vea is already in position across the plane and Winston floats a pass right to him. Vea grabs the ball, tucks it and scores. Quite frankly, Vea looked a little surprised he got the chance to show off skills he hasn't exactly exercised since his running back days in high school given his lack of choreographed end zone dance. He was still in disbelief in the locker room, too. And I'm still in disbelief I get to break this down today. May never get over it given that it combined all my favorite things: defensive player touchdowns, big man touchdowns and creative goal-line trickery. The perfect play doesn't exi-
---
4th Quarter
2nd & 10 @ TB 14 (09:03)
Falcons in 11 personnel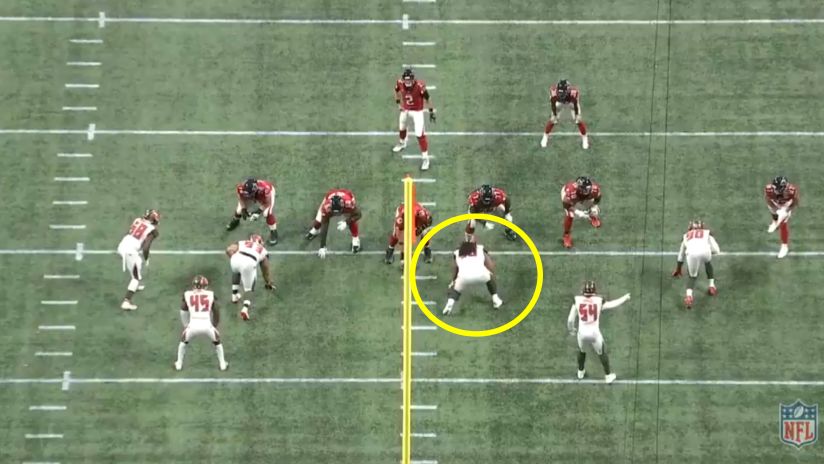 Back to Vea's primary side of the ball and he decides he wants to add a sack to his stat line *puts defensive thinking cap on.* The Falcons are inside the red zone and are showing a 3×1 formation. The Bucs have a four-man front with outside linebacker Shaq Barrett in a five alignment in a two-point stance next to defensive tackle Ndamukong Suh lined up over the tackle in a four. Vea is in the front-side 2i and outside linebacker Jason Pierre-Paul is in an a wide-nine opposite Barrett but has a hand in the dirt. The Bucs have their nickel package with five defensive backs in coverage but it won't end up mattering.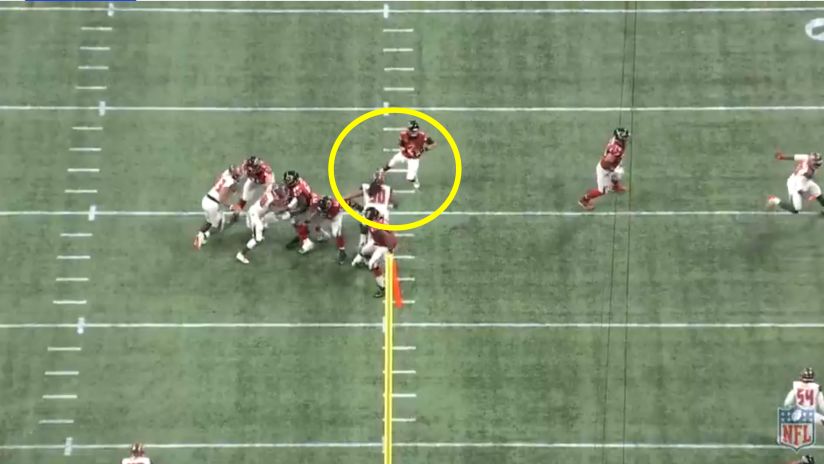 Ryan takes the snap out of the shotgun as all of his skill players release into their routes. JPP draws the left tackle out wide as he goes out to chip the running back off his route. The center has his eyes fixated on both Suh and Barrett, seeing if the right side of his line is going to need help with the two of them. He keeps an arm out in a half-attempt to keep Vea at bay along with the left guard, who has been left one-on-one with Vea, but isn't actually paying attention. One swim move later and Vea is past the left guard, flicks away the arm of the center, who still hasn't turned his head, and boom, brings down Ryan for a loss of six.
4th Quarter
3rd & 16 @ TB 20 (08:22)
Falcons in 10 personnel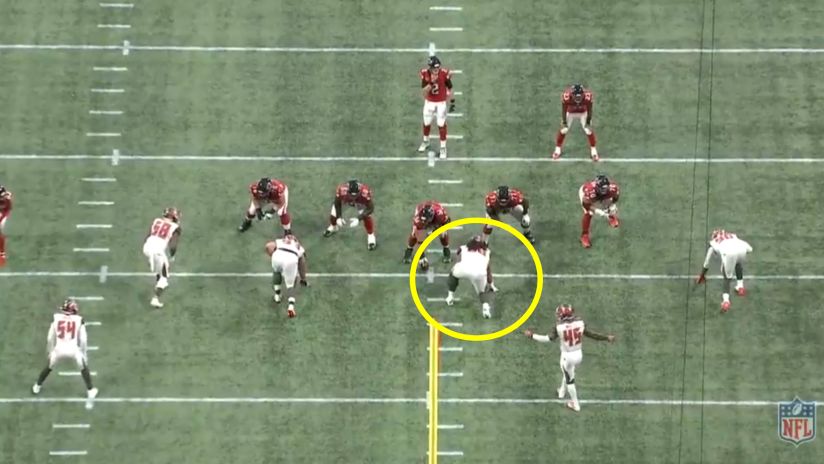 Yes, this is one play later. Needing a touchdown to get back in the game and put themselves within one score of the Bucs, Atlanta throws four wideouts out there in a 2×2 double-stack formation. They put Julio Jones in motion, but he settles back in as the ball is snapped. Running back Brian Hill releases immediately to the flat, leaving the o-linemen to deal with a four-man rush of Vea, Suh, Barrett and Pierre-Paul.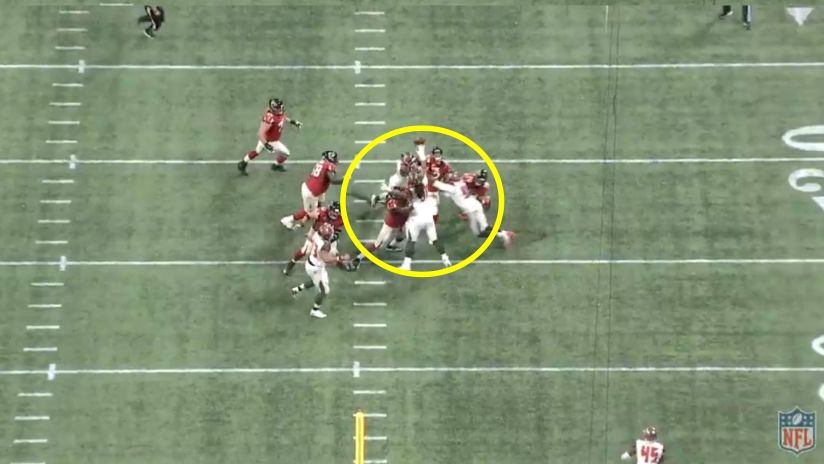 Spoiler alert: it doesn't go well. Barrett and Pierre-Paul close in quickly, forcing Ryan to try and get the ball out. Barrett was left one-on-one and his getoff alone gets him past the right tackle. JPP is simultaneously getting the better of the left tackle. Ryan then basically throws blind as Vea overpowers the left guard yet again and comes crashing down, trapping Ryan. Vea gets his hand up as Ryan releases the ball and bats it down for one of two passes defensed on the day. It forced the Falcons to settle for a field goal and prevented them from getting back into the game late.
Bucs Set to Face Top-Five Rushing Attack Against Colts | Carmen Catches Up
The Buccaneers' defense has done a great job this year limiting opponents on the ground. They've shut down some of the league's most prolific running backs on their way to a number two ranking in rushing defense, allowing an average of just 76.3 yards per game. The Indianapolis Colts come into town on Sunday and with them, comes their fourth-ranked rushing offense, averaging 139.0 yards per game.
So, who wins out?
Tampa Bay is coming off a game in which they held Leonard Fournette and the Jaguars offense to just 49 yards on the ground. Fournette has the seventh-most rushing yards in the league, averaging 4.5 yards per carry. The previous game, Fournette had 97 yards on the ground and 62 through the air. The Bucs held him to his second-worst rushing mark all season when they allowed him just 38 yards on Sunday. It added him to a list of dangerous tailbacks the Bucs' defense has been able to neutralize – a list that includes the likes of the Rams' Todd Gurley, who the Bucs held to a season-low 16 yards rushing in Week Four, and Panthers' Christian McCaffrey, who Tampa Bay held to his two lowest rushing totals this season in Weeks Two and Six.
However, the Colts, who may or may not have wide receiver T.Y. Hilton available, rely on their rushing attack a little more than most. Their 1,668 rushing yards account for over 40% of their total offensive yards. Their 97 first downs by way of the run rank second in the league. These guys are going to try to run. They're going to have to, lest they abandon almost half their offense, which isn't likely.
The good news is that the Bucs have been able to shut down teams that rely on a rushing attack. Take Seattle. Though Chris Carson finished with 105 yards, 59 of those yards came on one play. Take that away and the Seahawks aren't even over 100 rushing yards in a game that went into overtime, gifting them an extra possession's worth of stats. That Week Four contest against the Rams where the Bucs held Gurley to 16 yards on the ground took the run game out of LA's offense so completely that it forced quarterback Jared Goff to attempt a pass 68 times. An offense that becomes that one-dimensional is going to have a hard time winning a game. And with the way the Bucs' backfield is starting to come on, forcing a guy like Jacoby Brissett to the air could result in adding to the league's fifth-best takeaway total.