A small sampling of football hits from buccaneers.com…
Bucs Performance Review: DT? Vita Vea
Yes, I 100% chose Vita Vea so I had an excuse to break down his offensive touchdown reception right before halftime. But I also chose him to challenge myself – I'm not exactly sure Vea knew what positions he played in Sunday's game against the Falcons. He did so many different things in this game, it puts my knowledge of multiple facets of the game to the test. In Vea's own words, 'There was a lot of weird in this game.' If you want to know just how many anomalies Sunday's divisional matchup contained, Scott Smith's Data Crunches are a good place to start. Yes, there were two this week because that much happened. And if that many anomalies happened – do they cease to be anomalies?
I don't mean to get so existential on you – this is football, after all. So, let's get down to the more tangible and break down three (very different) plays from Vea.
2nd Quarter
2nd & 1 @ ATL 1 (00:44)
Bucs in 23 personnel (yes, you read that right)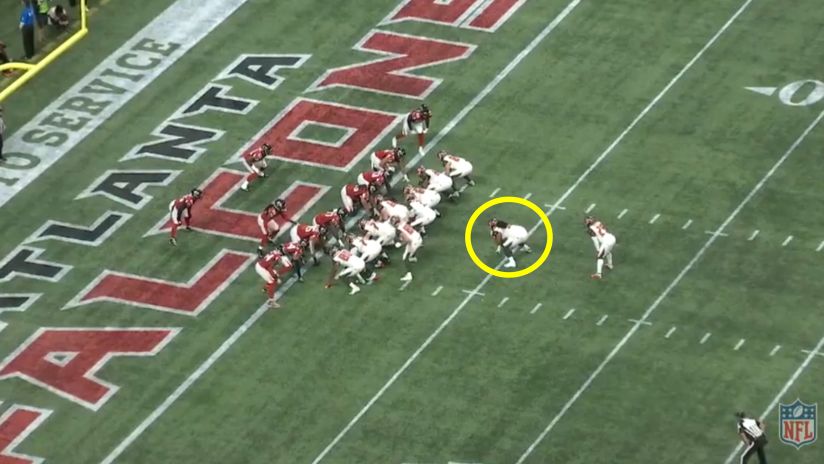 Anything goes at the goal line and apparently, the Bucs decide to prove that on this play. The first thing you should notice here is one of these players is not like the other. Vita Vea is aligned in a fullback position in front of running back Peyton Barber and behind a line that includes three attached tight ends. This, incredibly, isn't the first time we've seen this either. Vea ended up being the difference maker on a one-yard Barber touchdown run against the Arizona Cardinals in Week 10. In that game, he had initially aligned himself exactly as he is here, except he then went in motion and as an eligible receiver, blocked from the line of scrimmage. Here, Vea was again announced as eligible and Atlanta must have figured something similar was coming. But they should have known something was off right away.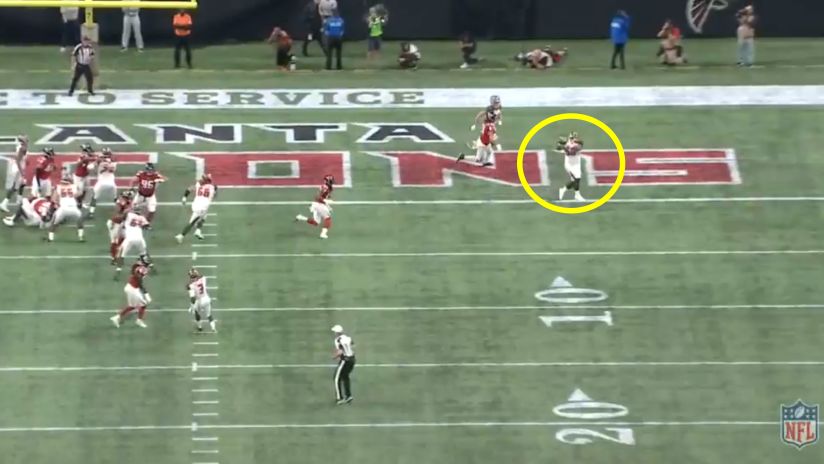 Barber didn't follow Vea on a block. In fact, Vea goes to the backside and chips the linebacker before blowing past him and skimming the goal line. The linebacker, Jermaine Grace, comes in unblocked and is beelining straight for Winston, but it doesn't matter. Vea is already in position across the plane and Winston floats a pass right to him. Vea grabs the ball, tucks it and scores. Quite frankly, Vea looked a little surprised he got the chance to show off skills he hasn't exactly exercised since his running back days in high school given his lack of choreographed end zone dance. He was still in disbelief in the locker room, too. And I'm still in disbelief I get to break this down today. May never get over it given that it combined all my favorite things: defensive player touchdowns, big man touchdowns and creative goal-line trickery. The perfect play doesn't exi-
---
4th Quarter
2nd & 10 @ TB 14 (09:03)
Falcons in 11 personnel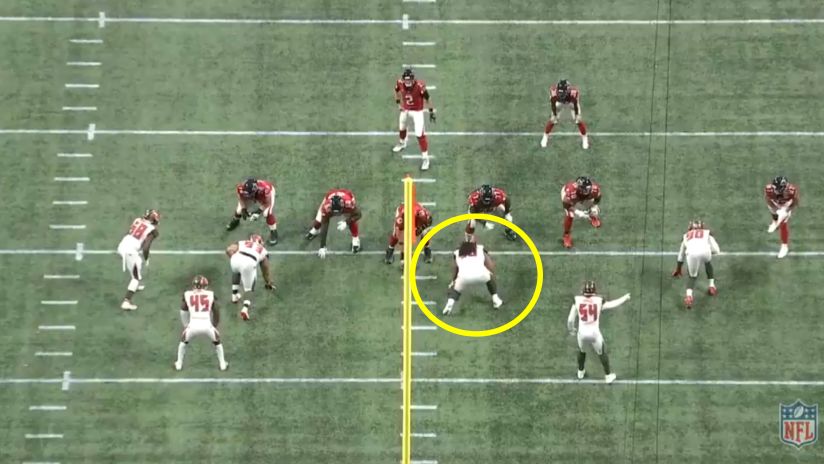 Back to Vea's primary side of the ball and he decides he wants to add a sack to his stat line *puts defensive thinking cap on.* The Falcons are inside the red zone and are showing a 3×1 formation. The Bucs have a four-man front with outside linebacker Shaq Barrett in a five alignment in a two-point stance next to defensive tackle Ndamukong Suh lined up over the tackle in a four. Vea is in the front-side 2i and outside linebacker Jason Pierre-Paul is in an a wide-nine opposite Barrett but has a hand in the dirt. The Bucs have their nickel package with five defensive backs in coverage but it won't end up mattering.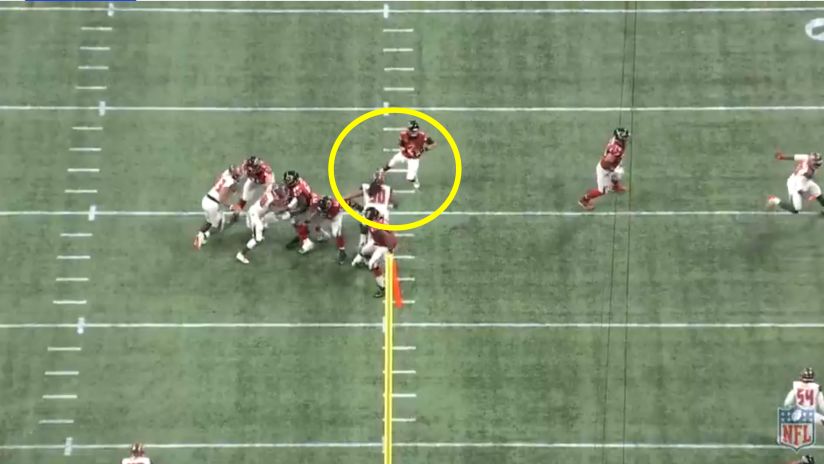 Ryan takes the snap out of the shotgun as all of his skill players release into their routes. JPP draws the left tackle out wide as he goes out to chip the running back off his route. The center has his eyes fixated on both Suh and Barrett, seeing if the right side of his line is going to need help with the two of them. He keeps an arm out in a half-attempt to keep Vea at bay along with the left guard, who has been left one-on-one with Vea, but isn't actually paying attention. One swim move later and Vea is past the left guard, flicks away the arm of the center, who still hasn't turned his head, and boom, brings down Ryan for a loss of six.
4th Quarter
3rd & 16 @ TB 20 (08:22)
Falcons in 10 personnel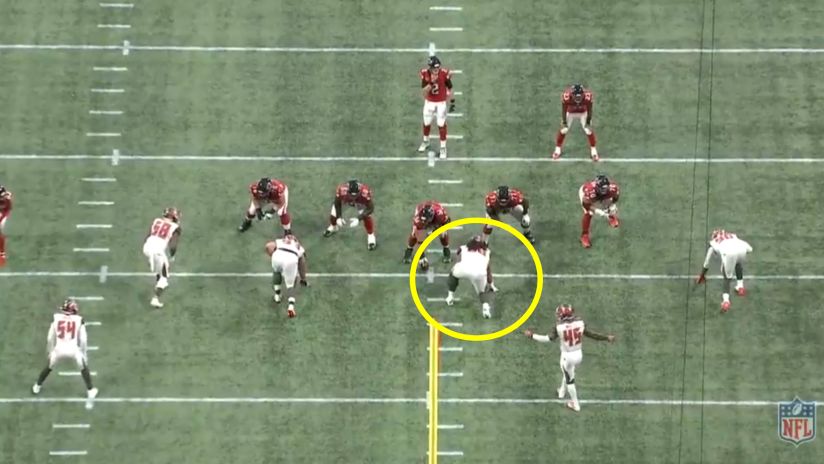 Yes, this is one play later. Needing a touchdown to get back in the game and put themselves within one score of the Bucs, Atlanta throws four wideouts out there in a 2×2 double-stack formation. They put Julio Jones in motion, but he settles back in as the ball is snapped. Running back Brian Hill releases immediately to the flat, leaving the o-linemen to deal with a four-man rush of Vea, Suh, Barrett and Pierre-Paul.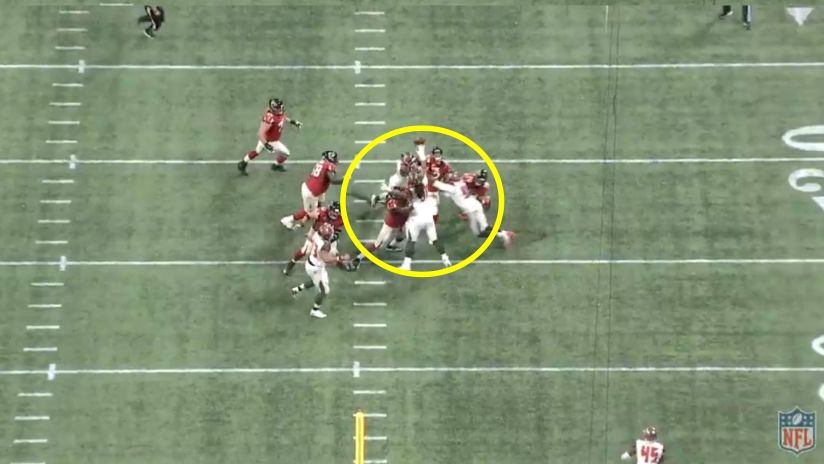 Spoiler alert: it doesn't go well. Barrett and Pierre-Paul close in quickly, forcing Ryan to try and get the ball out. Barrett was left one-on-one and his getoff alone gets him past the right tackle. JPP is simultaneously getting the better of the left tackle. Ryan then basically throws blind as Vea overpowers the left guard yet again and comes crashing down, trapping Ryan. Vea gets his hand up as Ryan releases the ball and bats it down for one of two passes defensed on the day. It forced the Falcons to settle for a field goal and prevented them from getting back into the game late.
Bucs Performance Review: Jameis Winston & Breshad Perriman Put on a Clinic
By now, you know quarterback Jameis Winston had yet another career day as he became the only player in NFL history to record back-to-back games with over 450 yards passing. He also bested his own franchise single-season touchdown record, throwing four touchdowns to bring his season total to 30. Three of those touchdowns went to wide receiver Breshad Perriman, who amid injuries to Mike Evans and now Chris Godwin, has stepped up in a big way the last couple of weeks. He recorded his first multi-touchdown game of his career against the Lions, getting into the end zone three times.
Let's take a look at all three.
1st Quarter
1st & 10 @ DET 34 (07:30)
Bucs in 12 personnel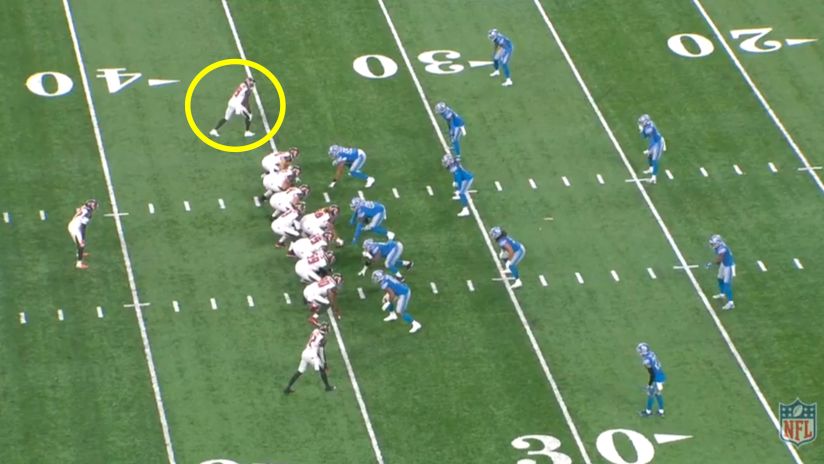 The Bucs come out in 12 personnel, putting receivers Breshad Perriman and Chris Godwin on opposite sides of the formation, each halfway between the hash and the numbers. Quarterback Jameis Winston is under center with running back Ronald Jones about seven yards in the backfield. The Lions are showing a quarters zone coverage on the back end.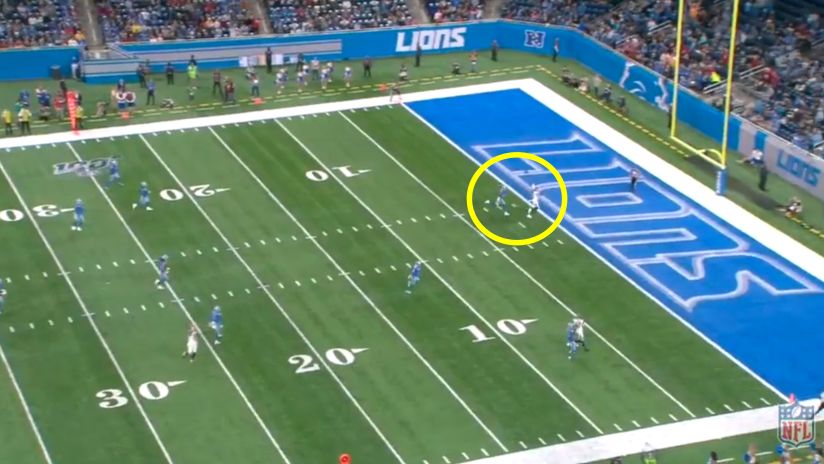 Safety Will Harris gets caught in no-man's land, with no one really coming into his zone. By the time he realizes the ball is going to Perriman on a post, it's too late. Perriman beat the corner outright to the end zone and after faking the handoff to RoJo, Winston delivers a beautiful ball that drops in his lap for the score. Right tackle Demar Dotson does a good job keeping his man at bay, as does tight end O.J. Howard. The rest of Detroit's line is occupied on a good sell from RoJo and the rest of the offensive linemen 'blocking' ahead of him.
2nd Quarter
3rd & 15 @ DET 25 (08:19)
Bucs in 11 personnel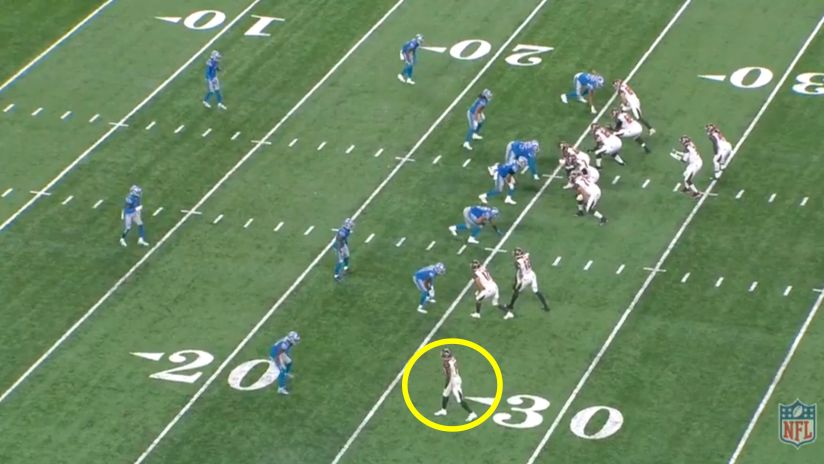 The Bucs have three receivers in a bunch formation to Winston's left with Perriman as the outside receiver. They're in 11 personnel, running back Dare Ogunbowale flanking Winston's right in the shotgun and tight end Cameron Brate attached to the formation on the same side. Detroit has two high safeties in coverage and has a split formation up front with a defensive end in a wide nine and end up bringing a four-man rush on third-and-long. Before the snap, Perriman motions out wide right on the numbers and a Lions corner follows, showing they're in two-man coverage.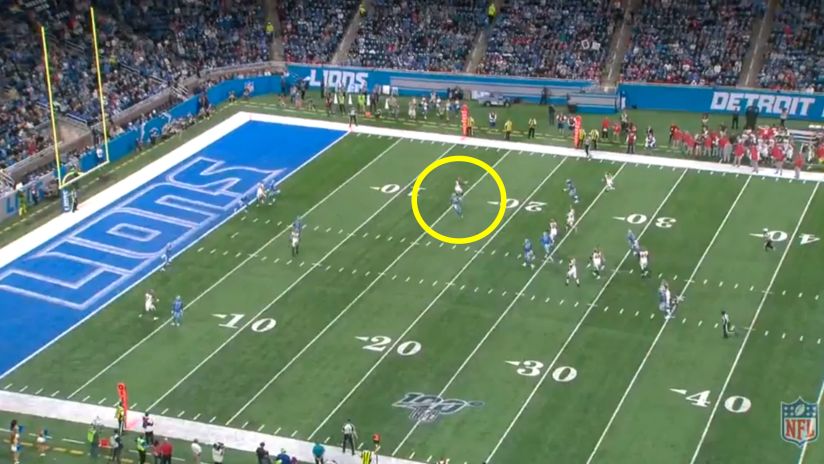 The safeties get preoccupied with Godwin and Watson, completely losing Perriman as he takes off on a crossing route, using his speed to get some good separation from his only defender. Winston hits Perriman on the opposite numbers and he's then free and clear to the end zone.
4th Quarter
3rd & 7 @ DET 25 (03:04)
Bucs in 11 personnel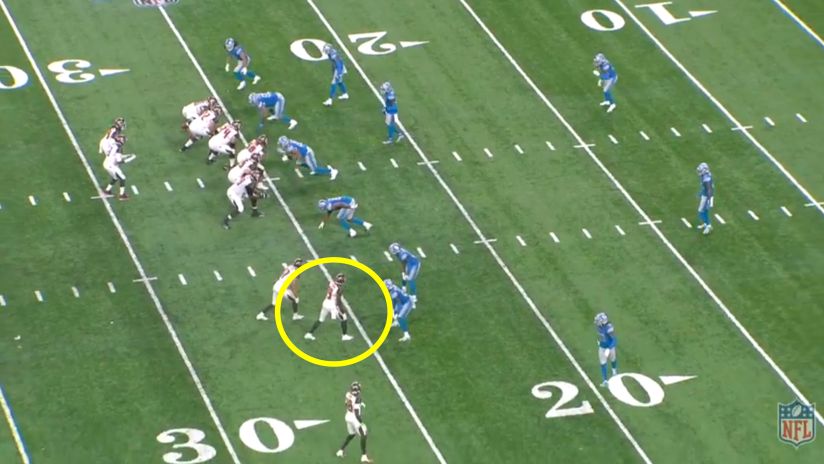 This looks a tad familiar now, doesn't it? Bucs are again in a bunch formation with three receivers, this time to Winston's right. Ogunbowale again flanks Winston away from the receivers and tight end O.J. Howard is the one attached to the formation to that same side. Perriman is now the two receiver, on the line of scrimmage as the point of the bunch. Ishmael Hyman is also in place of Godwin or Miller, who had both exited the game with hamstring injuries, as the outside receiver. The Lions again have two deep safeties but seem to be in zone coverage this go around after cornerback Justin Coleman comes in on the blitz. In fact, you can see him turn around to the safety to make sure he's aware of wide receiver Justin Watson.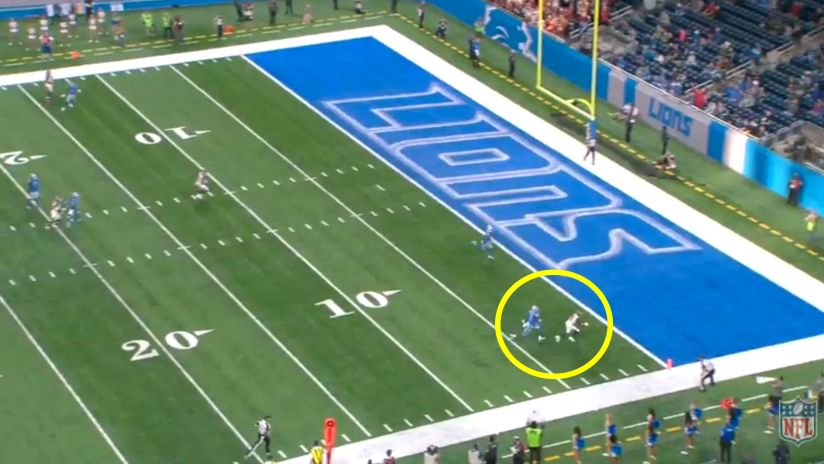 Hyman is the guy in motion and a corner trails him but the safety to the front side sits as Watson comes into his zone. He keeps his eyes on Winston and even though he ends up recognizing the ball is going to Perriman, Winston delivers a perfect ball to Perriman just before he crosses the plane into the end zone for his third score of the game. Ogunbowale keeps his defender at bay in pass protection but Coleman wasn't accounted for at all. Winston did a great job getting rid of it before Coleman could get there, though.
Top Three Takeaways from Colts vs. Buccaneers
1. This dang defense.
The Buccaneer defense did what it's done all season on Sunday – it stopped the run and got off the field, while keeping Tampa Bay in the game. The Indianapolis Colts came in with the fourth-best rushing attack this season and were stopped by the league's second-best rushing defense. The Bucs let up just 66 yards on the ground, a far cry from the Colts' 139.0 yard-per-game average. And it wasn't like Indy didn't try. They had 22 attempts in the game for just a 3.0-yard average per play. Marlon Mack, who had the 10th-most rushing yards in the NFL entering the game was held to 38 yards on 13 attempts. It forced quarterback Jacoby Brissett into the air 36 times. He'd complete just 19 of those passes for his second-worst completion percentage this season. That was thanks to a collective effort between pressure up front and passes broken up on the back end. Though Brissett was only sacked once, he was hit eight times. The Bucs also recorded four passes defensed, three of which were by cornerback Carlton Davis, who recorded his third game this season with at least three.
The first couple drives on offense didn't exactly go as planned for the Buccaneers. The Bucs were in a 10-0 hole to start the game, in fact, and it could have been worse. After a fumble on the second drive gave the Colts' great field position in Buccaneer territory, the defense held them to just a field goal. They did the same on the last interception of the game in the fourth quarter and this time, newly signed kicker Chase McLaughlin would miss the attempt, keeping the Bucs within range to take the lead – which they did. The defense also did a great job getting off the field throughout the game. They held the Colts to just a 38% third-down success rate, converting just six of 16 attempts. The Tampa Bay defense even added to their takeaway total by forcing another fumble by the hands of rookie Devin White – his third of the year. It was scooped up by fellow rookie Mike Edwards for his first recovery of his career, stopping Indy in Buccaneer territory.
2. Bucs were 100% in the red zone and capitalized on offensive opportunities.
It took 38 points to do it, but the offense came through when the team needed it, capitalizing on opportunities and converting in clutch moments. For instance, late in the fourth quarter and down four points, quarterback Jameis Winston led a go-ahead touchdown drive that culminated in a 12-yard pass to wide receiver Breshad Perriman in the end zone. It followed a series that saw a pick-six from the Colts' defense, giving them the lead back. But the offense wouldn't be denied and Winston bounced back.
It was a career day for Winston, in fact. He threw for the most yards in a single game ever in his five seasons under center. He completed 33 of 45 pass attempts for 456 yards and four touchdowns. He now has 4,115 passing yards on the year, which is the second-most in the NFL this season and the most in a single season in team history. The Bucs had 542 yards of total offense in the game, which is good for the third-best mark in franchise history. Tampa Bay is averaging 29.1 yards per game which is the third-most of any team this season.
It showed a vast improvement in places like the red zone, where the Bucs were four-for-four in their trips inside the 20. That had been a point of emphasis throughout the year, with the offense settling for field goals, even when getting inside the five-yard line in some cases. Guys in the locker room after the game said in years past, that was a game the Bucs don't win. The fact that they did could mean they've turned a corner, after all.
3. Turnovers still making things a little difficult.
A rollercoaster of a day means there were some valleys with the peaks. And indeed, the Bucs lost the turnover margin 4:1. Usually, when there is that big of a discrepancy, you don't come out with the win. In fact, in games this season, teams are 5-27 when committing four or more turnovers. The Bucs themselves are 1-4, having lost four previous contests with four or more turnovers this year.
But the resiliency is encouraging. The ability to overcome what was at one point a 14-point deficit in the third quarter to holding a three-point lead as time ran out is a sign of a team working together to overcome mistakes. In fact, after a day to mull it over, Head Coach Bruce Arians said he liked the win over the Colts better than the previous week's win over the Jaguars, where the Bucs held the lead for all of the game. He said it was because overcoming that adversity shows the growth in the team and how the culture is changing, which is good news all around with a young team that has a lot to look forward to.
Bucs Set to Face Top-Five Rushing Attack Against Colts | Carmen Catches Up
The Buccaneers' defense has done a great job this year limiting opponents on the ground. They've shut down some of the league's most prolific running backs on their way to a number two ranking in rushing defense, allowing an average of just 76.3 yards per game. The Indianapolis Colts come into town on Sunday and with them, comes their fourth-ranked rushing offense, averaging 139.0 yards per game.
So, who wins out?
Tampa Bay is coming off a game in which they held Leonard Fournette and the Jaguars offense to just 49 yards on the ground. Fournette has the seventh-most rushing yards in the league, averaging 4.5 yards per carry. The previous game, Fournette had 97 yards on the ground and 62 through the air. The Bucs held him to his second-worst rushing mark all season when they allowed him just 38 yards on Sunday. It added him to a list of dangerous tailbacks the Bucs' defense has been able to neutralize – a list that includes the likes of the Rams' Todd Gurley, who the Bucs held to a season-low 16 yards rushing in Week Four, and Panthers' Christian McCaffrey, who Tampa Bay held to his two lowest rushing totals this season in Weeks Two and Six.
However, the Colts, who may or may not have wide receiver T.Y. Hilton available, rely on their rushing attack a little more than most. Their 1,668 rushing yards account for over 40% of their total offensive yards. Their 97 first downs by way of the run rank second in the league. These guys are going to try to run. They're going to have to, lest they abandon almost half their offense, which isn't likely.
The good news is that the Bucs have been able to shut down teams that rely on a rushing attack. Take Seattle. Though Chris Carson finished with 105 yards, 59 of those yards came on one play. Take that away and the Seahawks aren't even over 100 rushing yards in a game that went into overtime, gifting them an extra possession's worth of stats. That Week Four contest against the Rams where the Bucs held Gurley to 16 yards on the ground took the run game out of LA's offense so completely that it forced quarterback Jared Goff to attempt a pass 68 times. An offense that becomes that one-dimensional is going to have a hard time winning a game. And with the way the Bucs' backfield is starting to come on, forcing a guy like Jacoby Brissett to the air could result in adding to the league's fifth-best takeaway total.