A sampling of community features originally appearing on buccaneers.com
Marpet, Cappa Wearing Cleats '4EVS' & National CMV Foundation During My Cause, My Cleats
Wearing cleats on a football field is innocuous enough. It's necessitated, in fact. You could go an entire game without bothering to really notice the usually plain, logo-emblazoned footwear that NFL players have on their feet. But what about when those cleats are hand-painted in bright colors with flowers or rainbows or even hearts on them? Then would you take notice? Imagine a 300-plus-pound offensive lineman with a big heart that reads '4EVS' on his size 15 cleats. Then imagine two. You might notice that. Millions of other people might notice that. And that's exactly what Buccaneers Director of Player Personnel John Spytek and his family are hoping for come Sunday, when both Ali Marpet and Alex Cappa will be proudly donning cleats representing the National CMV Foundation for the NFL's My Cause, My Cleats Campaign.
CMV is short for cytomegalovirus and it's a common occurrence that's typically harmless to healthy adults and children. In fact, the CDC estimates that 50-80 percent of Americans will have had the infection by the time they are 40 years old. However, an active infection can be harmful to unborn children and infants, especially if it goes undetected. It became the Spytek's heartbreaking reality when their daughter, Evelyn, was born with congenital CMV in 2013.
"It took us a while to wrap our heads around what she was dealing with and what we were going to deal with," Spytek said when Evelyn was diagnosed in the NICU. "You're always dealing with a lot as a first time parent, but when it goes a different way than you expect or that everyone told you it was going to seem, there are a whole other set of challenges."
The Spyteks were at a loss following the diagnosis, having not heard about the disease while John's wife, Kristen, was pregnant. Right away, they noticed a glaring need for more education and awareness about a disease that is ultimately preventable with the right precautions, yet affects an estimated 30,000 babies each year. The couple started the National CMV Foundation in 2014, while they themselves learned and coped with Evelyn's condition, with the mission of educating women of child-bearing age about CMV.
With John working in the NFL and the My Cause, My Cleats Campaign bringing national attention to a multitude of causes, there lay an opportunity that was readily taken by a couple of guys that are hard to miss on Sundays.
"When John told me about his organization, it was a no brainer," right guard Ali Marpet said about how he made his decision to support the National CMV Foundation on his cleats this Sunday. "Their commitment to this and wanting to get more people involved I think is awesome. It's a great organization."
It's the second year in a row Marpet will be wearing his CMV cleats. The right guard has gained notoriety as one of the highest-paid players at his position and being an offensive lineman, is on the field for pretty much all of the team's offensive snaps. With him will be rookie Alex Cappa, who jumped on board after hearing about the cause through Marpet.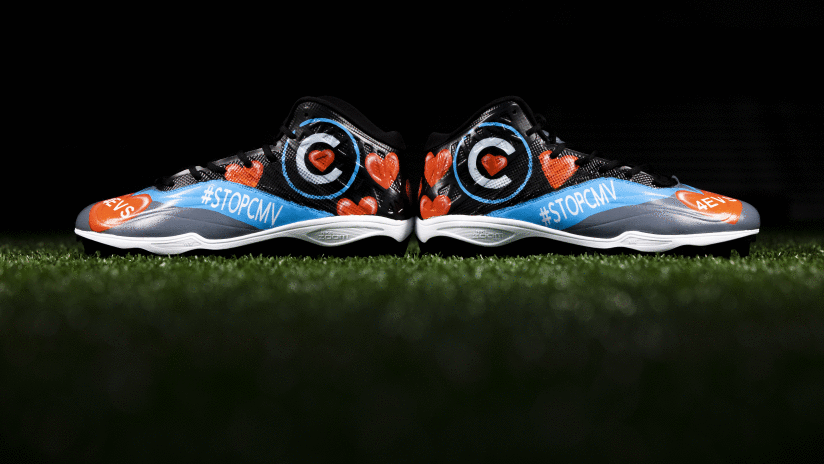 "Especially when it comes to something like CMV, the big issue is that people don't know about it," Cappa said. "So even though it's just something like wearing cleats, really bringing attention to it is the important thing in this situation."
The cleats they will wear feature a big heart on them that has '4EVS' inscribed inside it. That's because after a two-year battle with the disease, the Spyteks' daughter, Evelyn, or 'Evs' as John always called her, passed away due to complications of CMV. Kristen now works full-time as the president of the National CMV Foundation, something that shows her amazing strength and courage in the eyes of John. He serves as her vice president, though it's hard sometimes to be faced with the constant reminder his daughter is no longer here, he knows a lot of good can come from the awareness they are creating. It's crucial to helping stop the disease.
"What Ali and Alex are doing is helping to get people to start asking questions," John said. "We need women going to their OBs to demand answers. That's a lot of what we're trying to accomplish. The first key is awareness. You have to know it exists before you can ask questions about it."
It's all to help prevent what happened to them from happening to anyone else. And they have the support not only of the two players that will be wearing cleats on a field, but from John's boss and close friend, Buccaneers General Manager Jason Licht.
"As time went on and I learned more about [CMV] through John, and just how driven they are to raise the awareness of the condition to save lives in the future, my wife and I both were really inspired by how much they want Evelyn to live forever through her cause and what this can do for people in the future," Licht, who will be wearing National CMV sneakers along with John on Sunday, said. "It's a no brainer to help them out with this."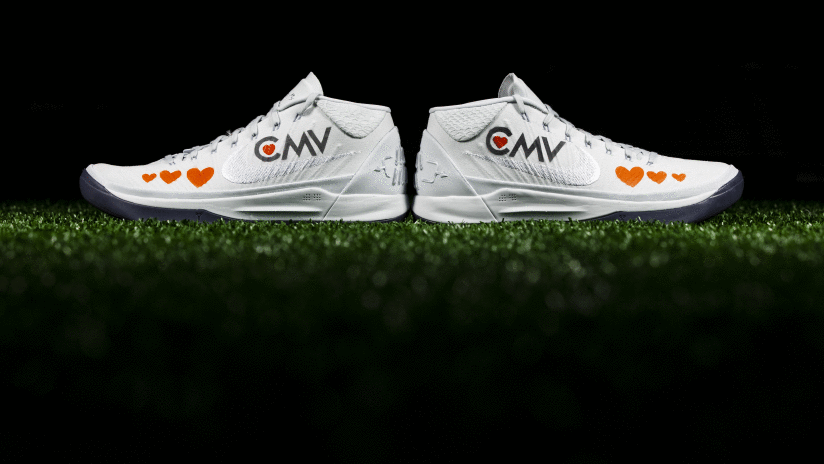 Licht isn't the only one in his family even that wanted to help out. He said several months ago, his kids approached him about wanting to hold a lemonade stand. As he set up the card table in the driveway, his kids informed him that they wanted all the money they raised to be for Evelyn.
"Especially with kids, now [John and Kristen] have Tommy and Jack, it's really cool how they still talk about Evelyn openly," Licht said. "Evelyn is with us. Our kids talk about Evelyn."
He said within an hour, the kids came back with over $150 in donations. They even held a couple more, just to see how much more money they could "give to Evelyn."
"We're just thankful for Jason, for Ali, for Alex," John said. "It's just a really cool thing. My Cause, My Cleats is such a cool initiative and I'm proud to be part of it. I think it's awesome the NFL has grown it the way they have. To some people it might seem like it's not a big deal, right? Ali's like, I'm just wearing cleats on a field, but it's bigger than that."
John has tried to convey the magnitude of the initiative to both Marpet and Cappa and how grateful his family is to them. He's appreciative of them putting themselves out there for a cause that people don't know much about. It means an extra effort on their part to understand the condition. John doesn't think they truly grasp how much they are doing for his family. He insists that for their foundation to make it to the NFL is a big deal, and it is. It's an even bigger deal to him and his wife, personally.
"Unfortunately, sometimes it takes heartache and pain for you to see the good in the people around you," John said. "We have and we continue to see it. They carry us on through our tougher moments. I mean I wish more than anything my daughter were here, but to me it's just a constant reminder of her spirit and the good that she continues to put in Kristen and mine and Jack and Tommy's life because of the people that support us."
To learn more about CMV, including its cause and treatment along with how you can get involved with their Compete 4 CMV initiative, visit NationalCMV.org.


Gerald McCoy Launches His Foundation & a Social Justice Visit | Bucs Community Impact Dec. 10
X Marks the Spotlight: Cameron Lynch
The linebacker got the Community MVP belt this week. Lynch is always participating in Buccaneers and player-led events. Any opportunity he has to get out in the Tampa Bay community, he takes it. He's been on multiple visits through the Social Justice Initiative, offering up encouragement to juvenile inmates at a detention center and lending an ear to ex-offenders as they make their way back into the work force.
Lynch also participated in the NFL's My Cause, My Cleats initiative where he wore cleats in support of Athletes in Action Syracuse, bringing awareness to rare diseases through his alma mater.
A Very Merry Mike Evans Christmas
Last week, wide receiver Mike Evans held not one, not two, but three back-to-back events on behalf of his Mike Evans Family Foundation to brighten the holidays for plenty of folks around the Tampa Bay area.
The first was his Catch for Christmas Celebrity Bowling Tournament, where he and a number of his teammates mixed and mingled with Bucs fans who had bought a lane at the Crossroads Bowl in Brandon. All proceeds went to provide college scholarships through Evans' Foundation, which aids underserved youth who meet the academic standards to go to college but may not have the resources or means. His quarterback, who has his own Jameis Winston's Dream Forever Foundation, was on hand to support not only in person, but sponsored a lane on behalf of his charity, as well. It brought teammates together for some food, fun and bowling, and it was just the beginning of a do-good week for Evans.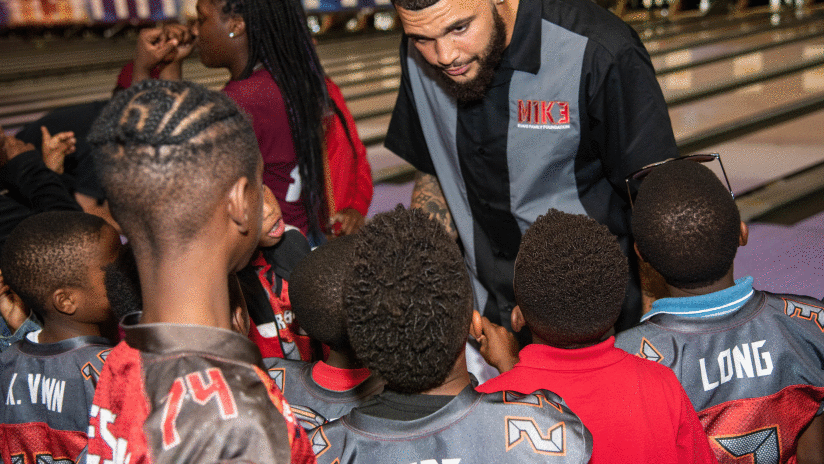 "That was awesome, it was an awesome turnout," Evans said. "Everyone came out to support. A lot of my teammates were there. Overall, it was just a fun time. Everybody just kept coming up to me saying this was a great event and we made a lot of money doing it to send some kids to college."
The next night, Evans and his wife, Ashli, visited the Children's Home Network, which is a residential shelter for neglected or abused children. Another pillar of Evans' Foundation is to help victims of domestic violence. He's involved in efforts both here in the Bay area and back in his home state of Texas. The Evans family brought dinner along with toys for Christmas for the children that live at the shelter. They spent time with the kids and played games. They also donated necessity items that the shelter is in need of year-round; things like shower curtains, sheets and toiletries. The Evans want to make sure children feel loved and cared for, especially around the holidays.
"We got to play basketball, a little bit of football with them," Evans said of the evening. "We opened toys, served them dinner, just tried to give them that hope, show some love and express some positivity."
The week was capped off with a surprise for a few Jr. Bucs football players who had made good grades in school. A group of 13 boys visited AdventHealth Training Center under the guise they were there for a tour of the facility. Little did they know, their favorite player had a ton of surprises in store, starting by getting in on a group photo to start the day. Evans then personally led them around the facility, showing them where he trains and even giving out signed football cards straight from his locker. Evans then took the boys out to the indoor facility where inflatables and games had been set up. It of course, turned into Evans launching deep passes in one-on-one drills with the boys and they couldn't have loved it any more.
After all that, everyone settled into the dining room for pizza and ice cream, but Evans still wasn't done. He had saved the auditorium for last, where upon walking in, the boys saw a whole holiday setup complete with gaming systems and swag for each one of them.
"Being able to be in this position to give back and seeing their faces light up is the best thing for me, how they react to what me and my family are able to do for them is awesome," Evans reflected on the week. "Now that I'm in the position that I'm in, I'm just happy that me and my family can give now. It's one of my favorite things to do."
"This is my favorite time of year, especially now that we are able to give back," Evans' wife, Ashli, added. "We try to give back as much as possible and this time of year makes it really special and we try to do the best we can."
Players Take Social Justice Visit to Zephyrhills Correctional Institution
Several Buccaneers players, including defensive tackle Gerald McCoy, visited the Zephyrhills Correctional Institute in support of the Abe Brown Ministries Prison Crusade, aiming to give encouragement and uplifting messages through the Christian gospel to inmates at the facility. Players and inmates alike shared their testimonies and how faith plays a role in their lives, however different they may be. The visit was part of the Bucs' player-led Social Justice Initiative and the final event of the 2018 season.
To read more about the full visit, click here.
Rookie Club Visit to Reddick Elementary
The Buccaneers Rookie Club visited Reddick Elementary School in Wimauma during their off day to surprise fourth and fifth-grade students. They brought Bucs games and surprised every child with brand-new Nike shoes. It was in conjunction with the Florida Dairy Council, who unveiled new milk coolers for the school. Through the Fuel Up to Play 60 Program, Reddick was awarded the $10,000 Hometown Grant by the Council as well.
Big kids and actual kids alike took part in football drills and obstacle courses out in a grassy courtyard in the middle of the school. Rookie defensive tackle Vita Vea made his own rules during the game.
Defensive Tackle Gerald McCoy Launches Patricia Diane Foundation
Fresh off his Walter Payton Man of the Year nomination, Gerald McCoy launched his Patricia Diane Foundation, named for his mother and in honor of single-parent households, on Friday night.
"Patricia's Mission Night" was put on at T.Pepin's Hospitality event center and included a live auction where McCoy's teammates auctioned off their own signed jerseys. Ten players were in attendance to support their veteran lineman, wanting to recognize all the good he does for the Tampa Bay community.
"This is an amazing event," fellow defensive tackle Beau Allen said. "You see Gerald was just recently nominated for the Walter Payton Man of the Year award and you can't really say enough about how big of a deal that is. He's done a lot in his career on the field but that's kind of the highest honor you can receive off the field. I think he absolutely deserves it."
Though this was his first event on behalf of his new foundation, McCoy has been a staple in the Tampa Bay community for his efforts. His latest venture in the community is his involvement with the Tampa Bay Buccaneers Social Justice Board. The Social Justice Initiative is a player-led program that aims to create real change in the Tampa Bay community and Gerald was one of the first to volunteer to serve. He participated in the program's inaugural event at the Tampa Police Citizens Training Academy, where he led a candid, and at times uncomfortable, discussion with law enforcement about issues facing society today. He also shared his testimony along with words of hope and encouragement at the Zephyrhills Correctional Institution this past Tuesday with the program.
Additionally, McCoy has various repeat efforts in place. Since 2012, he's led the entire defensive line's involvement in their "D-Line Delivers Christmas" holiday event that provides hundreds of families with holiday gifts and experiences. He's also implemented his "McCoy Family Christmas" annual event in 2013 where he and his family give back to single-parent households.
"He does so much for people," Allen continued. "I think the big thing lately, people get a lot of attention, they go out of their way to look for praise. I don't think Gerald is that kind of guy. He just does stuff because he's a good dude. I think that's what this thing is all about. It's an awesome event. I hope it shines a light on Gerald and his new foundation and raises some money for a great cause."
It meant a lot to McCoy that his teammates supported him. Among those in attendance were Allen, left tackle Donovan Smith, wide receiver Mike Evans, defensive end Jason Pierre-Paul and more.
"I'm very excited," Allen said of being able to support McCoy's efforts. "We have each other's backs on and off the field, too."
12/11: Rookie Club Visit to Johns Hopkins All Children's Hospital – The Buccaneers Rookie Club will be visiting with children at JHACH and bringing the holiday spirit with them.
12/11: Shop with a Jock – DeSean Jackson hosts his annual "Shop with a Jock" event, taking underserved children on a shopping spree for the holidays.
12/11: McCoy Family Christmas– Gerald McCoy and his family will host their annual holiday event held at AdventHealth Training Center full of holiday surprises for single-parent families.
12/17: D-Line Delivers Christmas – The annual event where the defensive line all chips in to provide families with a full Christmas, including a shopping spree to Target with the players.