A sampling of features appearing on Buccaneers.com/news/community…
Their Day in Court: Bucs Players Get Firsthand Look into Local Judicial System Through Social Justice Initiative
A woman taps her foot anxiously as she sits on one of two wooden benches in a small, stale, white-washed room – the only decoration being a piece of printer paper taped to the wall that reads: NO TALKING IN COURT AUDIENCE. There's a window in front of her but the view isn't of the outside. Instead, it's of another room where a prosecutor, a judge and various court personnel sit. It's almost museum-like, with the court as the exhibit. Above that window is a video monitor showing live-looks inside two correctional facilities. Public defenders read off names and offenses in rapid succession from the screen, getting maybe a sentence or two in before the judge through the window decides just how much it's going to cost to get these offenders out on bond and therefore, out of a jail they've already been in for multiple days. This is despite the fact that not a single person has been formally charged with anything yet. And it's without actually ever stepping foot in front of a judge in-person, as offenders are just displayed as figures on the screen.
The monitor shows a young woman in a customary orange jumpsuit stand up as her name is called. The woman back on the bench in the stale room suddenly stops her foot tapping and stares intently at the screen. The public defender indicates to the judge there is someone present in the 'audience' for this particular offender before reading off multiple charges, including theft, and recommendations on bond to be set.
"Is that your daughter?"
It's a question not from the judge through the window, nor anyone in the offsite correctional facilities on-screen, but instead from next to the woman on the bench. There sits Buccaneers cornerback Mazzi Wilkins. The mother nods briefly to the young player before the judge motions for her to come speak with him directly. Multiple Buccaneers players occupying the rest of the bench space in the room watch through the window as the mother enters the courtroom to answer to the judge deciding her daughter's fate. The players are here as part of the Bucs' Social Justice Initiative, and along with Walter Payton Man of the Year winner Anquan Boldin and the Players Coalition, are at the Hillsborough County Courthouse to get a firsthand look at bail and probation hearings. These kinds of things are open to the public, by the way. The woman among them in the audience serves as a sobering example of the reality of this experience. Turns out, her daughter is just 18 years old. She gets good grades. She's on the basketball team at school. She fell in with the wrong crowd, her mother concedes, now face-to-face with the judge.
"I don't want my daughter to become a statistic."
The statistics of incarceration in the United States are staggering. The U.S. has the largest prison population in the world, along with the highest per-capita incarceration rate with 698 people per 100,000 in prison. The statistics of jailed persons are even more pronounced. Over 450,000 people are held nightly without conviction in this country. Right here in Florida, 65% of those in the Hillsborough County Jail are pending trial. They're in jail because they can't post their bail – a number almost arbitrarily set despite there being no evidence bail improves public safety (most of these are non-violent crimes) or that it increases the likelihood an offender will show up in court, per research presented by Jessica Brand, a lawyer from the Justice Collaborative, which works with the Players Coalition. In fact, some states have done away with monetary bail entirely given its questionable effectiveness.
In a voice that sounds more parental than judicial, the judge then rules to leave the girl's bond at the standard $2,000 for the first charge of theft but then ROR's or "Releases on One's Own Recognizance" for the rest of the charges, meaning no additional money will be required to release her. Her parents can pay the bond, so she won't be part of the jailed statistic any longer, provided she shows up for her court date. Many others the players see that morning, however, aren't so fortunate.
"You can see it's a real systemic problem," running back Dare Ogunbowale said. "I would say to an extent, it's almost not fair. Based on your income level, that's your ability to be free or not."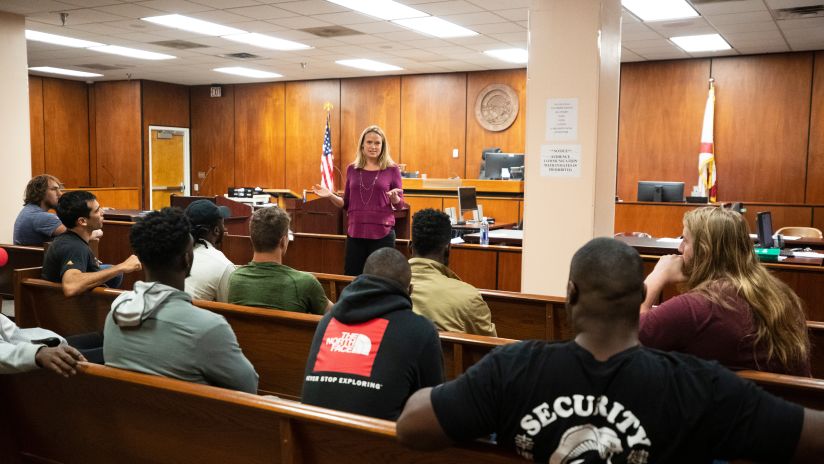 Down the hall in a much bigger courtroom, that's decorated for the upcoming Thanksgiving holiday, sit wide receivers Mike Evans and Chris Godwin with many more of their teammates. This is the more traditional setup you expect to see when you watch courtroom TV shows. And like those TV shows, judges have absolute power over their courtrooms in real life, too. The players are sitting in on probation hearings, where there is a little more context, but a whole lot more arguing, as the judge rules whether to send violators to jail or reinstate their probation. It's quick, too. And it may be a client's first time ever being face-to-face with the overworked public defender that is attempting to shield them from the judge's autonomy. Some have waited weeks in jail for their hearing – any progress they've made in getting their life on track while on probation surely wiped out; A father, who now works two jobs to support his wife and three kids, pleading to be reinstated after missing a meeting with his probation officer due to transportation issues. He was unemployed when he committed the offense he was on probation for but has since secured stable housing for his family and gained employment. If he goes to jail, what will they do without him? Or a woman that violated her probation after only two months who is now opting to wear an ankle bracelet for two years rather than serve 30 days in county jail, which would thereby satisfy her entire probation sentence. All because she can't leave her kids. Odds are after not making it two months, she won't make it two years without a violation. And a violation, no matter how trivial, would mean prison time. Upstate. Not cushy county jail.
"It's tough," Ogunbowale said. "First, you're going to empathize with the person. Obviously, they've committed a crime and you can't ignore that but at the same time, some of the punishments, you don't feel that they're properly being punished. That's kind of the frustrating thing about it. That's why a bunch of the guys that were here today will make sure we do things to hopefully change things like that in the future."
Change is slow and difficult, but Boldin and the Players Coalition have already been able to effect changes across the country. Boldin has had conversations with political officials in multiple states. A Pahokee-native, he's currently working on an effort to change bail policies in Orlando and has helped multiple communities in Florida. As one of the founders, Boldin started the Players Coalition with the mission to make an impact on social justice and racial equality at the federal, state and local levels through advocacy, awareness, education and allocation of resources. That mission starts with a platform not unlike the one Bucs players have.
"You're not just an ordinary Joe," Boldin told the players in a conversation session following their time in the courtroom. "When y'all speak, people listen. And when you voice your concerns and your opinions about things that aren't right – that's when things begin to change. It's amazing to me to see the response we get as athletes from people in positions of power, even the community."
"We do have a platform and we need to use that platform in whatever capacity that's going to be," Ogunbowale agrees. "Being in Tampa, guys going back to their respective cities too, we know that we have a platform that we can use our voices to try to change the system. Kind of just start small and work our way up from there. We definitely plan to use our voices."
The Buccaneers' Social Justice Initiative is a player-led effort to make a meaningful difference in the Tampa Bay community and support the larger, league-wide effort to address social justice issues. It's in place to help facilitate exactly what Ogunbowale said: helping players use their voices.
"It makes us feel good knowing that we have the backing of an organization that wants to see us do good in the community," he said.
Beau Allen's Support of Waterboys for My Cause, My Cleats Has 'Higher' Meaning
Over 30 different causes will be represented on players' cleats Sunday as part of the NFL's Fourth Annual My Cause, My Cleats Initiative. Some players chose which to support based on family or loved ones that have been impacted by certain diseases. Others have their own foundations they proudly back. But for defensive lineman Beau Allen, his chosen cause has a little bit of a 'higher' meaning.
Back when Allen was with the Philadelphia Eagles, then-teammate Chris Long got him involved with Waterboys, which puts professional athletes and sports fans on the same team in pursuit of one goal: bringing life-sustaining drinking water to communities in need. Allen championed the cause proudly for a couple of years – but this past offseason, decided that wasn't quite enough. Waterboys leads an expedition into Africa and up Mount Kilimanjaro each year, with both NFL players and military veterans, as a means to raise money for the organization and bring the two groups together.
The dormant volcano is the tallest mountain in Africa, and the highest single free-standing mountain in the world, rising 19,341 into the air. To summit its peak is no small feat – especially for a big man like the 327-pound Allen, who along with Long, Eagles' center Jason Kelce and former Seahawk Haloti Ngata, joined by military veterans, accomplished just that. In the process, the two groups figured out they weren't so different – especially when they had the same mission.
"When you get up there, the same sort of fellowship I've seen in Afghanistan or Iraq – you don't want to let your buddy down," said Fred Dummar, a retired Army Green Beret who made the climb with Allen. "If you're buddy stumbles, you want to be there pushing him, giving him a little shove in the back, steadying him. Everybody wants to make it. You don't want to let the team down."
"The thing I remember talking to Fred about is there are a lot of similarities between combat veterans and athletes when they get done playing," Allen continued. "They kind of lose a sense of purpose and they miss that brotherhood and it's kind of different when you don't have people telling you what to do and where to go and line up and stuff like that. We kind of bonded over that and it was one of the reasons it was fun to be around those guys."
Dummar was brought in by Nate Boyer, who was under Dummar during his own time as a Green Beret. Boyer also played for the Seattle Seahawks and therefore bridges the gap between the two groups for causes like these. It's the cause within the cause, helping retired veterans feel a sense of belonging and purpose again, which so many struggle with after retirement.
To regain that sense of purpose though, the group first visited the well sites. In Allen's case, they went to five different sites around the densely populated Arusha, Tanzania to see firsthand the impact the organization was making. One particular site, which was at a school in the middle of the city, Allen won't ever forget.
"You go and you look and you see where they were getting their water before, and it was this really small creek, not that deep, and it was filled with garbage," Allen recalled. "Not sanitary. And you're like, wow this is where they get their drinking water. This is not ideal at all. Then you see the well and you see how much of an impact it has and you really feel it."
"The first couple days, everybody is hanging out, you start seeing the wells and realizing how important it is so I think that kind of served to galvanize the group,"' Dummar added. "All the little kids at the school running around and playing, seeing the joy they have and how appreciative they are over something that we take for granted is really kind of a life-changing, life-impacting moment."
Fast forward a few months and Allen stares at a Smartwater bottle in his locker at AdventHealth Training Center on 'Unboxing Day' this past week for My Cause, My Cleats. His blue cleats bear the Waterboys logo that he'll don on Sunday. He reflects on what it's all for, knowing from experience the change he's effecting.
"It's a pretty humbling thing," Allen said. "It makes you feel like you're doing something important – and you are."
And as for Dummar and the rest of the group that hiked up Kilimanjaro, he says they all have a pretty 'epic' group text that continues to this day. It's a bond that lasts long beyond the climb, just like the wells that provide water long after the team is gone.
To find out more about Waterboys and how you can help, visit https://waterboys.org/ and to see the rest of the cleats and causes that will be represented Sunday, visit https://www.buccaneers.com/mycausemycleats.
Teammates Show Up for Team Godwin Foundation Launch
You'd be hard-pressed to find a better teammate than Bucs wide receiver Chris Godwin. He and wide receiver Mike Evans are the best receiving duo in the league this season and Godwin's 60 catches this year are the most of any of the Bucs receivers this season. Godwin shows up for his teammates, and in turn, his teammates showed up for him as he and girlfriend Mariah DelPercio launched the Team Godwin Foundation on Monday night.
"It means the world to me seeing how many of my teammates came out here on a Monday, one of their days off," Godwin said. "They did not have to be here, especially as long as they have been. It just shows the support they have for me and the respect that they have for me and that they have my back. It means the world to me."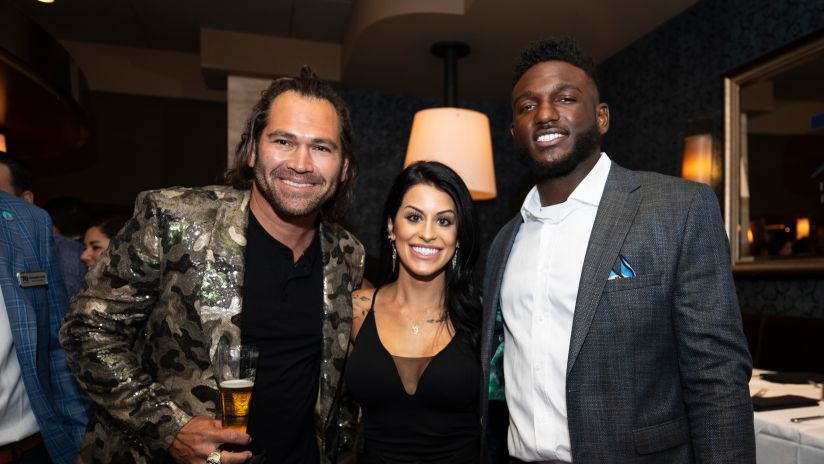 The Team Godwin Foundation aims to make a difference for pets in need through advocacy and financial assistance to local shelter and rescue groups. Through programs like the Second Chance Fund, animals in need of live-saving treatments are able to get the financial support they need.
In fact, this season Godwin started his "Receptions for Rescue" campaign, which invites fans to make a donation for every catch he makes this season. With each catch, a dog's life is saved and Godwin's overall goal for the season is $10,000.
The Foundation also aspires to make a difference for animals facing adversity by educating the public on the importance of adopting – something the couple themselves knows firsthand.
"For me and Mariah, this was something that was close to our heart," Godwin said. "We have two dogs at home. We just adopted our second dog in March. Seeing our relationship with her and how much she's brought to our eyes, it's really very special. We just want to go out there and spread the word and educate people that may not know."
The event was held at Eddie V's Prime Steak and Seafood restaurant and was co-hosted by former Tampa Bay Ray Jonny Damon. The whole evening flowed like a cocktail hour with roving food and entertainment. There was a magician that made defensive tackle Beau Allen sufficiently uncomfortable. This was after both he and quarterback Ryan Griffin got a caricature portrait done of themselves by the on-site artist and before inside linebacker Lavonte David took down a sizable plate of truffle mac 'n cheese.Carmen Vitali✔@CarmieV
At the Team Godwin Foundation launch and Jameis is looking like a proud dad… I'm crying y'all. I'm also taking full credit for setting this up

@Beau_Allen @Griffin_11 @Jaboowins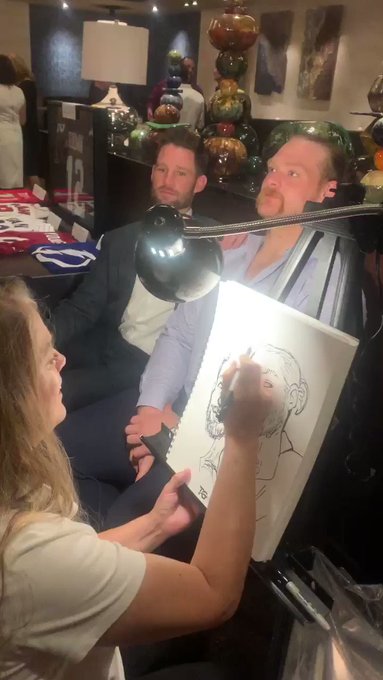 113 · Tampa, FLTwitter Ads info and privacySee Carmen Vitali's other Tweets
In all, 12 of Godwin's teammates were there, including Jameis Winston, Ryan Griffin, Mike Evans, Breshad Perriman, Justin Watson, Scotty Miller, Cam Brate, Tanner Hudson, Bryant Mitchell, Beau Allen, Lavonte David and Anthony Nelson along with Captain Fear and the Buccaneers Cheerleaders. Donations from those teammates poured in, as well as from the Buccaneers themselves, who were one of the sponsors on the event.
It's safe to say Godwin's well established with his teammates and it's important to him to establish himself and his foundation in the Tampa area, too.
"I'm still in the process of establishing myself on the field and I think this gives people a chance locally to get to know me and who I am off the field," he said. "People are starting to support me a little bit more so it's very important to me to plant some roots. I love Tampa, I love being here and so starting it here is very important."